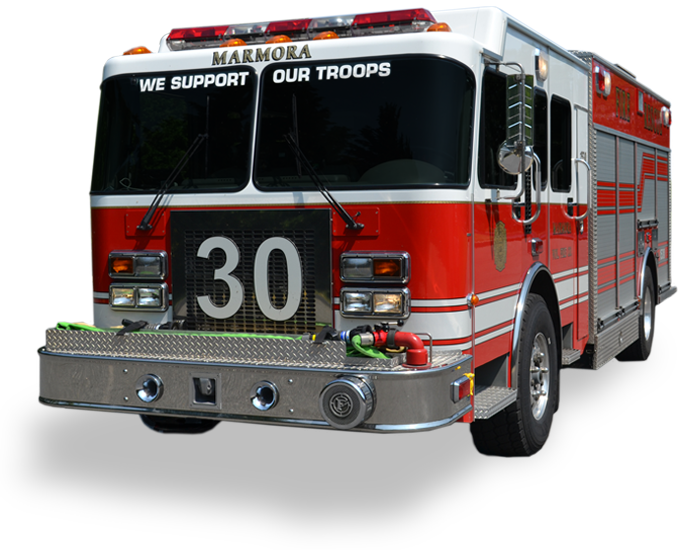 Engine 15-30 is a 1999 Saulsbury Rescue Engine on a 6 man Spartan Gladiator chassis. It is powered by a Cummins M-11 engine. 15-30 has a 1000 gallon poly tank with an additional 40 gallon foam cell and a rear mounted 1500 gallon per minute Hale pedestal pump. Engine 15-30 was designed to handle 75 to 80 percent of Marmora's in district calls without assistance from other units. It has performed as designed.

Some of the unique features on Engine 15-30 include: a rear mounted pump and the pump panel placed in the rear compartment, a mounted Hurst electric Simo pump with pre-connected combination tool and a mighty lite O-cutter, basic vehicle stabilization equipment, 6 pre-connected 1 3/4" hand-lines including 2 front bumper lines, 2 pre-connected 2 1/2" in hand-lines, a 1 3/4" pre-connected foam line, a 1000 gpm deck gun that can be ground mounted, 1300 feet of 5" hose, a full set of BLS equipment including AED, and a 10KW amps generator. A 3000 watt night scan telescoping light, Bullard Thermal Imaging Camera, CO monitor, 8000 cfm electric positive pressure fan, all electric pump valves and in cab video system round out Engine 15-30's equipment list.

As you can see Engine 15-30 is a true Rescue Engine, capable of handling virtually any incident to which we may be dispatched.