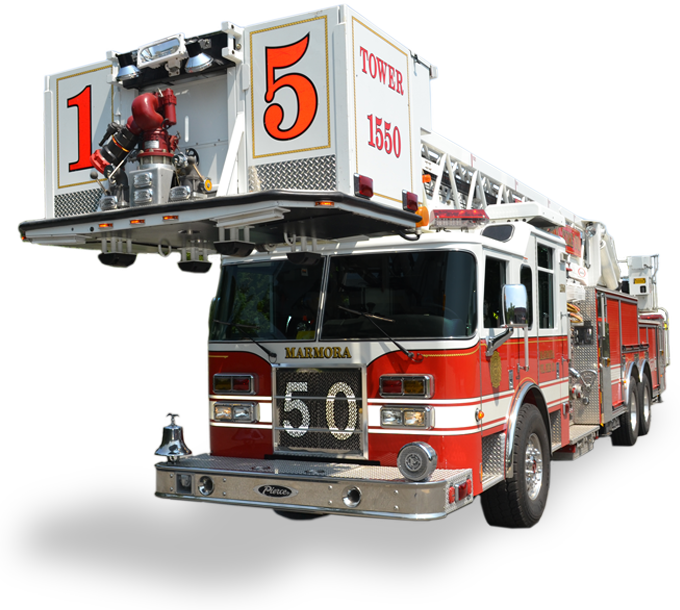 Tower 1550 is a 2004 Pierce 100 foot Aerial Platform on a Dash 6 man cab. Tower 1550 was designed and built by committee after over 2 ½ years of work.
Tower 1550 is the primary aerial apparatus for the Marmora Volunteer Fire Company. It has a 100 foot platform with a 1000 pound tip load that comfortably holds 3 men. The bucket contains a 1000 gpm remote control master stream with 2- 2 ½ inch gated discharges, three supplied air stations, 3 masks for personnel, a 50 foot section of 1 ¾" hose and a 5 foot section of 1 ¾" hose with nozzle for outside standpipe operations. Parapet ladders mount with Stokes basket carrier round out the basic equipment and capabilities of the platform of Tower 1550.
A full compliment of ground ladders start off the body equipment carried on Tower 1550. Tower 1550 has a 2000 gpm Hale pump with 400 gallon water tank. A 15 kw Onan hydraulic generator supplies the Tower's many scene light and ac electrical outlets. 1000 foot of 5" supply hose sits in the hose bed with 2 400 foot 1 ¾" lines and 200 foot of 2 ½" hose above the pump panel. Both electric and gas positive pressure fans provide the ventilation power for the truck, with a Partner chop saw with Wart-Hog blade assisting. The Tower is also equipped with a full set of EMS equipment.
The 6 man cab of the Tower is roomy and easy to operate. A Fire-Com system with 10 connection points around the truck, including the bucket and pedestal positions, keep the crew in constant communication with each other and aware of the fire-ground communications. Tower 1550 is powered by a 600 horse power Detroit Diesel, and maintenance problems are kept to a minimum by an automatic lubrication system. A color Bullard Thermal imager rounds out the cab equipment of Tower 1550.
As you can see, Tower 1550 is a well equipped, fully functional apparatus capable of operating as an Engine Company or a Ladder Company. Tower 1550 will serve the Marmora Volunteer Fire Company for many years to come.